To say the Cotopaxi crew was a bit noticeable in Alaska is an understatement. Among the near-constant drizzle and moody cloud cover over dark, towering mountains, our cherry-red Jeep stood out as it sped down the Seward Highway. Inside the car, our laughter was almost as loud and bright as our clothing. Our colorful clothing, car, and personalities contrasted with the chilly Alaskan backdrop, and we reveled in the fact that mere hours prior, all of us had been complete strangers. On the Seward Highway, we found more than adventure and some serious mountains. We found friendship, jaw-dropping views, and some really, really good seafood.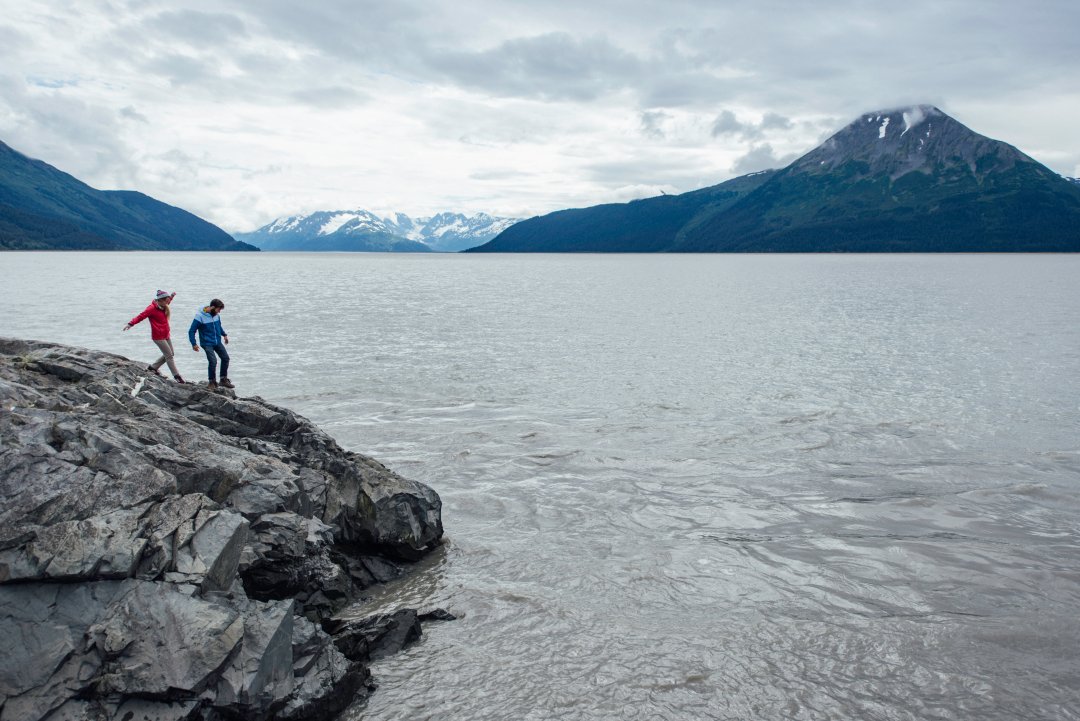 If you've got a bucket list, write this one down. The Seward Highway is a stunning 125-mile experience, complete with mountains, ocean views, incredible wildlife, and lush forests that wind endlessly along the road. The highway starts at sea level and rises 1,000 feet as it curves its way seemingly straight into the mountains.
"On the Seward Highway, we found more than adventure and some serious mountains. We found friendship, jaw-dropping views, and some really, really good seafood."
Connecting Alaska's biggest city, Anchorage, to Seward on Resurrection Bay, the entire highway serves as a scenic byway, providing ample opportunities to pull off and gawk at the scenes that lie before you. As you head toward Seward from Anchorage, you can opt to explore Portage Valley, which boasts one of the most accessible and breathtaking glaciers in Alaska. Accessible by boat, the 10-stories-tall Portage Glacier and its icy crevices will have you seeing blue for days. Portage Valley and its 48-mile span of wilderness follows along the bay of Turnagain Arm, with the Chugach Mountains rising above in the background. The drive along the Seward Highway will take you around three hours to complete, but the Cotopaxi crew took its sweet time as we stopped for pictures and picnics on the side of the highway.
If there's one thing I can confidently say I'm obsessed with, it's mountains. There's just something about their mysterious lure that make my heart beat a little faster. On the Seward Highway, the mountains are truly an unforgettable scene to feast your eyes on. With every turn, you are greeted with unobstructed views of jagged peaks that seem to rise straight out of the frigid ocean. I was so enamored with what I was seeing that I had to constantly remind myself how grateful I was to stare at views so untouched and primal in the heart of Alaska.
Road trips like the one our crew experienced are to be treasured. On road trips, time doesn't seem to matter. It's expected of you to make many stops along the way, finding hidden gems like tiny restaurants tucked in the trees and family-run gift shops that sell the best trinkets. The Seward Highway doesn't boast many shops, nor simple things like gas stations, but when you do find these places, they are truly treasures.
The first 50 miles of our trip brought us face to face with the base of the Chugach Mountains, where we gawked at the icy-blue glaciers from our car andwhispered "oh my god" more than a thousand times. We ended our trip in the harbor town of Seward, Alaska, where the adventure continued outside of the car. If you're in for a road trip that will make your head spin with unreal vistas, this is it. Pack the car, grab some friends, don your colorful Cotopaxi gear, blast some tunes, and head out! Adventure awaits, folks.
---
Born and raised Colorado girl, Emily, fills her weekends with adventure in the high-altitude Rocky Mountains, exploring and inspiring others to get outside. Follow her adventures @offthegridgirl. 
Fuego Down Jacket– This thing is a puffy, cozy dream! It keeps me toasty warm on chilly hikes and through long nights in the tent up in the backcountry. The colors are unbeatable as well. I love the purple/powder blue color with the pop of burnt yellow in the hood!
Sambaya Stretch Fleece– This is hands-down the best hoodie I've ever owned. It's thick and warm, yet still amazingly lightweight and packable. This is a staple in my hiking gear because it can layer under absolutely anything! The thumb holes are a big plus too and keep my hands toasty warm in chilly conditions.
Wazimu Althetic Tights– I live in these. Seriously, I have to force myself to wear a different pair of pants I love these that much. They're a stretchy, moveable layer that works great alone or under waterproof hiking pants. Plus, THEY HAVE POCKETS!
Samburu Shorts- These babies are my favorite pair of shorts when the weather heats up. They are durable enough for long, rugged hikes in the mountains, yet stylish enough to wear around town while getting post-hike beers.
Tikal Active Shell– This is the jacket I bring with me on every single hike. It packs down unbelievably small, so even if I don't end up busting it out, I don't even notice I'm hauling it in my pack. It's waterproof, yet doesn't have the obnoxious crinkle that most rain jackets have. It's perfect for high-altitude alpine summits and nights around the campfire with the Sambaya Hoodie layered underneath. The ultimate do-it-all jacket!